For more than 60 years, Daphne Utilities has been serving this Daphne Community and surrounding areas on the Eastern Shore. We are committed to delivering an exceptional level of service while providing you with reliable, safe and high quality services. We are able to meet your needs and exceed your expectations only through the remarkable efforts of a dedicated team of employees and our passionate pursuit of excellence.
---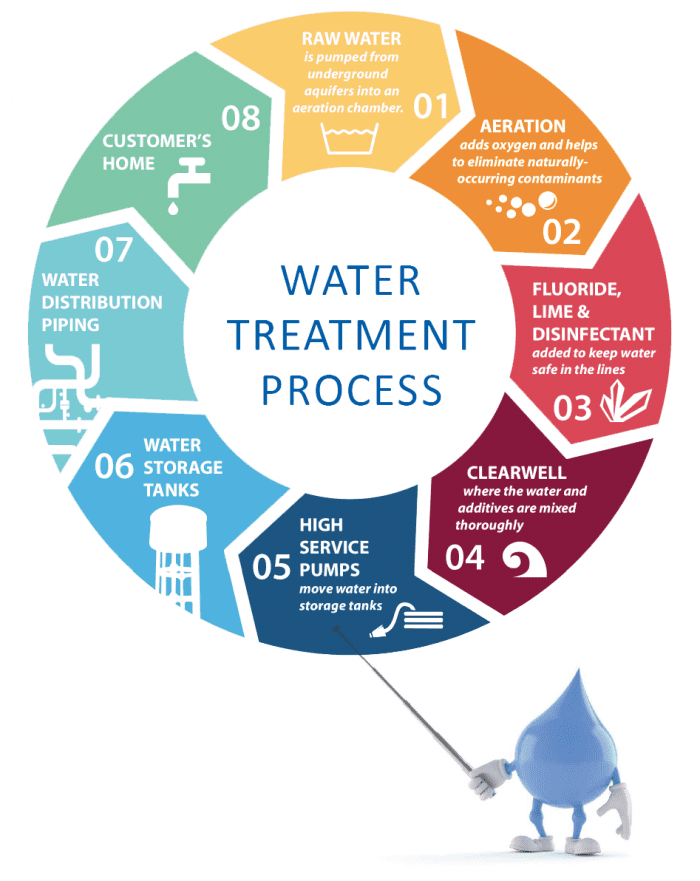 Where Does Our Water Come From?
The source of our drinking water is a natural underground reservoir called the Miocene Aquifer that encompasses an area of about 6,500 square miles in southwest Alabama and western Florida. The aquifer is recharged primarily through precipitation and discharge is primarily to streams, bays, sounds, and wells. At Daphne Utilities, we pump water from this aquifer through a series of 13 wells ranging in depth from 250-450 feet. We have the capacity to pump nearly 7 million gallons per day with an average daily withdrawal of approximately 3 million gallons of safe and clean drinking water.
Water Treatment Process
In our water treatment process, raw water is pumped from underground aquifers into an aeration chamber. Aerating the raw water adds Oxygen to it and helps eliminate certain naturally-occurring contaminants, such as iron. After aeration, Fluoride is added to promote good dental health, Lime is added to adjust the pH of the water to an optimum level and a Disinfectant is added to keep the water safe in the water lines all the way to the customer's home. The water and additives are mixed thoroughly inside a Clearwell, a large tank that allows mixing to be completed before entering the distribution system. Once the treated water meets all quality standards, high service pumps are used to move the water into Storage Tanks and then through the distribution system to the Customer.
Consumer Confidence Report (CCR)
The Consumer Confidence Report Contains results from the most recent monitoring which was performed in accordance with the regulatory schedule.
2017 CCR Report
2018 CCR Report
2019 CCR Report
For more information: