Samantha Coppels
Communications Manager
[email protected]
(251) 533-5880
Company Information as of March 2019.
Founded in 1953
Employs 74 people
Water System
Total Water Customers: 11,000
Water Capacity: Approx. 7 million gallons of water/day
Number of Wells: 13 wells
Number of Tanks: 9 tanks with a capacity of 6.125 million gallons of storage. 
Miles of Water Lines: 188 miles of water pipe in sizes ranging from 2" to 16"
Sewer System
Total Sewer Customers: 12,300
Sewer Capacity: Permitted to treat 4.17 million gallons of wastewater/day
Miles of Sewer Lines: 210 miles of pipe ranging in size from 3" force mains to 24" gravity mains.
Natural Gas System
Total Natural Gas Customers: 5,200
Natural Gas Source: Gulf South Pipeline
Miles of Gas Lines: 335 miles
Daphne Utilities Service Area
Water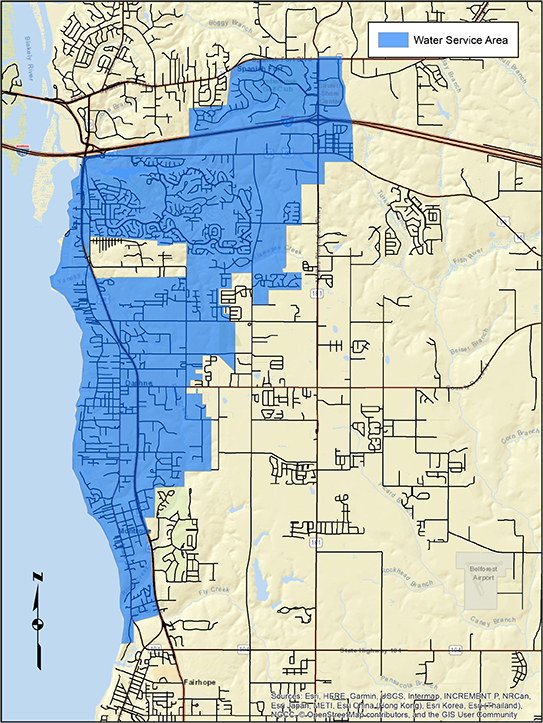 The source of our drinking water is a natural underground aquifer called the Miocene Aquifer. We pump water from this aquifer through eleven wells ranging in depth from 250 to 450 feet deep. Through these wells, we can pump more than 7 million gallons of water per day. Groundwater in general is not as prone to many of the runoff contaminates that can be found in surface water reservoirs, thus we are able to provide a higher-quality drinking water. Our water is treated using disinfection and some filtration to remove or reduce potential contaminates that may come from the source water. Fluoride is also added to promote dental health. Our water is sampled daily from a number of locations throughout the distribution system in accordance with strict guidelines to ensure that it consistently meets the highest quality standards for our community.
Natural Gas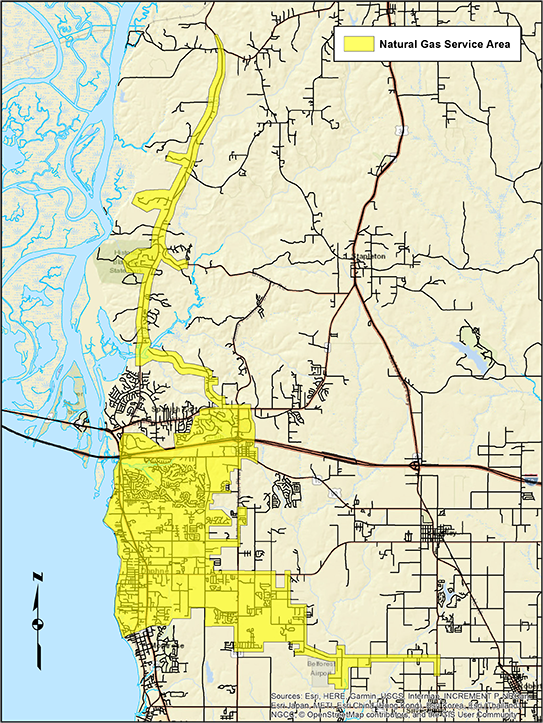 Daphne Utilities provides clean, safe and cost effective natural gas utility services to more than 5,200 residential and commercial customers. We serve customers all along the Eastern Shore and as far north as the Crossroads Community near Bay Minette and southeast to Silverhill. We employ a staff of dedicated professionals overseeing and maintaining 240 miles of gas piping to ensure your natural gas is delivered safely and reliably, and meeting our exceeding all regulatory requirements. Natural gas is a reliable, efficient, and clean energy source for all of your heating, cooking and energy needs.
Wastewater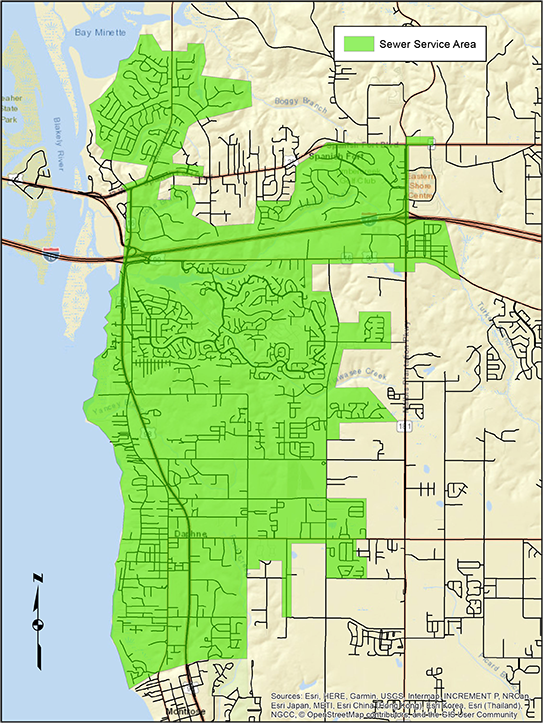 Daphne Utilities is committed to protecting our valuable environmental resource along the shores of Mobile Bay by providing excellent quality wastewater collection and treatment services to our customers. Our staff of dedicated operators works 24/7 to collect and treat water to standards which consistently exceed state and federal regulatory requirements. We have more than 210 miles of collection system piping, 81 pumping stations and a Water Reclamation Facility with the ability to effectively treat more than 4 million gallons of wastewater each day.
Utility Programs
Daphne Utilities Lend-A-Hand Program
Daphne Utilities has partnered with Ecumenical Ministries to help people who are having a hard time in this tough economy. The Lend-a-Hand program allows our customers to round up their utility bill to the next whole dollar. Those extra pennies will be used to help others with their utility bills.
Daphne Utilities Grease Recycling/Bio-Diesel Program:
Our Bio-diesel plant has been operational since 2007. This equipment allows us to make our own diesel fuel and saves the utilities money, which in turn saves the customer money. We are making high quality bio-diesel fuels from used oil turned in to us from our Oil Recycling Program. We burn this fuel in our Utility trucks and heavy equipment.
Click here to learn more about grease recycling and our Protect the Pipes program.